Introduction
In July 2023, the Securities Exchange Board of India (SEBI) introduced new Environmental, Social, and Governance (ESG) metrics for mandatory disclosure under the 'BRSR Core' for select listed companies in India. The Business Responsibility and Sustainability Report (BRSR) format, which replaced the previous Business Responsibility Report (BRR), is now mandatory for the top 1000 listed companies by market capitalization.
This article explores SEBI's latest ESG disclosure requirements, analyzes insights from BRSR data, and examines the prominent global ESG frameworks shaping sustainable reporting practices.
SEBI's Latest ESG Metrics and Mandatory BRSR Core
SEBI's commitment to advancing sustainable practices has led to the inclusion of new ESG metrics for mandatory disclosure under the BRSR Core for certain listed companies. This initiative strengthens the importance of ESG reporting and encourages companies to be more transparent about their sustainability efforts.
With a stipulated timeline for mandatory compliance, it signals a shift towards greater accountability and responsible business conduct in India's corporate landscape.
Insights from BRSR Data: Emissions Distribution
Analysis of the BRSR data for FY22 reveals compelling insights into India's emission patterns. The report highlights the Manufacturing Sector as the leading contributor to emissions, closely followed by the Mining Sector.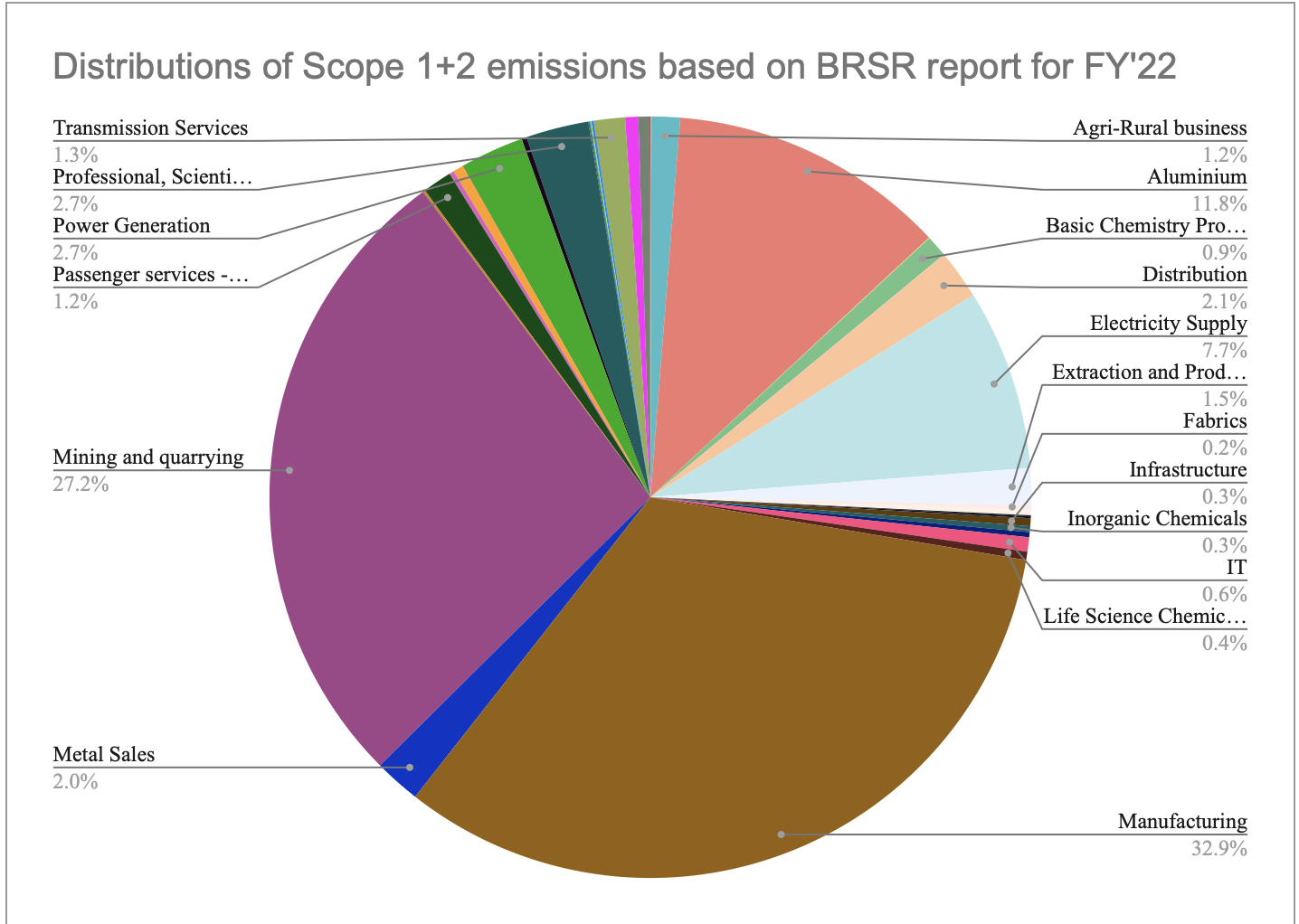 Source: Calculus Carbon Research
The cumulative emissions reported by the participating companies account for a significant portion of India's total annual greenhouse gas emissions. Understanding emission patterns in high-impact sectors is essential for devising targeted strategies to mitigate carbon footprints and foster sustainable growth.
Prominent Global ESG Frameworks
In addition to BRSR, companies worldwide engage with various ESG frameworks to showcase their sustainability endeavors. Notable frameworks include the Global Reporting Initiative (GRI), Integrated Reporting (<IR>), Sustainability Accounting Standards Board (SASB), United Nations Global Compact (UNGC), and CDP (formerly Carbon Disclosure Project).
These frameworks provide specific key performance indicators (KPIs) and principles, enabling companies to disclose their ESG initiatives comprehensively.
Rise of CDP Reporting in India
Source: CDP (Number of companies disclosing emissions)
The Carbon Disclosure Project (CDP) has witnessed significant traction in India in recent years. Between 2020 and 2021, the number of Indian companies submitting CDP reports increased by 24%, indicating a growing commitment to ESG disclosures.
As more regulations enforce and mandate ESG reporting, the trend is likely to continue, reflecting companies' dedication to sustainable practices and transparency.
Conclusion
SEBI's latest ESG metrics and the BRSR format demonstrate India's growing emphasis on sustainable reporting and corporate responsibility. The insights derived from BRSR data underscore the critical role of the Manufacturing and Mining sectors in India's emissions landscape.
As companies align with prominent global ESG frameworks, they strengthen their commitment to sustainability, contribute to a greener future, and enhance investor confidence in their responsible business practices. By embracing mandatory ESG disclosures, Indian companies pave the way for a more sustainable and resilient economy.